24.05.2018
music music music
Music! Scene by scene our film has been provided with music in the last months, from the beginning to the end. Although the work is not yet finished - there is still a need for refining and some parts will be changed completely - but the intermediate result has already made us very satisfied. To tell you something: The leading instrument became the cello after some back and forth, and a real one! Recorded by our Oliver himself. Nevertheless, you won't always recognize it as a cello, as it has already been quite alienated and of course mixes and combines with completely different sounds. You will see, uh hear.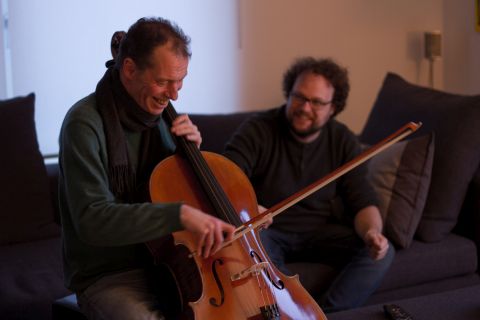 06.02.2018
sound design / music is coming
Long time no hear, right? So much the more has changed in the meantime: The sound design is up and running! The whole film with its almost two hours is now no longer silent, but sounds and sounds exactly as it should sound for an OldScool-SciFi-Film with an old, rusty spaceship. All sounds, deliberately produced, recorded, edited and mixed with each other, are now in place - metal, heavy equipment, textiles, glass, plastic and of course everything that can hum, beep and rattle has been handled. In addition there were special sounds from our special boys from Berlin and our Oliver did a lot to make everything sound juicy, full and clean.

The world of "The Final Land" has now come to life. But only with the last bigger step, which is still pending, a real film will come out of it: Only with the right music it will be really round and done. It's a good thing that since the beginning of the new year everything can focus on the composition of our music...!
02.04.2017
screening test
Yesterday: The first working version of our film - with (almost!) all pictures on final state and already some sound design. We had to find the last mistakes in compositing and color grading and judge the sound so far, but also find out how well you follow the story and whether everything works as it should. But it was also just good to remember everything, the spaceshipbuilding, the shooting, the tricks, and just to see in one piece what has come out so far.
26.03.2017
sound making
For a few weeks now, sounds have been made. Because the original sound from the shoot isn't really enough for a decent movie sound.

All movements through the ship and all touches or uses of props and armatures - buttons, flaps etc. but also many things that actually don't exist - need their extra sounds, sometimes full, sometimes dull, sometimes near, sometimes far... And for this all kinds of objects are used, i.e. moved, touched, turned, shaken, thrown, scratched, beaten etc.. - This is recorded, combined and edited and finally placed in the right place on the film.

And it goes well. Already more than 30 minutes are as good as finished and wait to be mixed with background sounds like humming or cockpit dueling.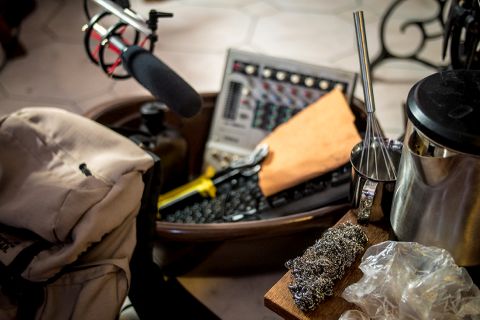 13.03.2017
visual part finished
This is what the whole film looks like in the editing program, without music or finished sound design, but with finished effects and finished pictures. He is now in the right stage for an internal screening. Soon our team will sit down to watch the film in its current state and to test how it already works (and to find last mistakes...).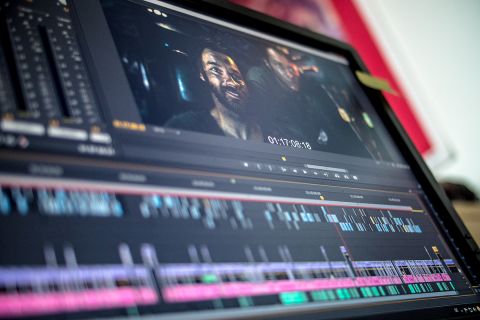 13.07.2016
color grading
The postproduction is probably not as spectacular as the space ship construction at that time, but just as time-consuming. Like color grading. Each picture is revised - different scenes need different light moods, color temperatures or "darkness levels ". And almost always single areas have to be treated separately (and these areas have to be accompanied by the movements of figures and camera) - here in the photo Adem's face is lightened (and "greened" because he is sitting in front of a green monitor). So it goes on a little bit every day...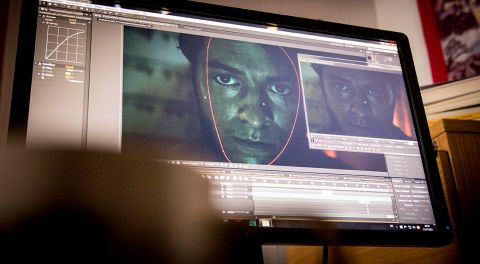 © 2013 - 2021 | Impressum | Datenschutz