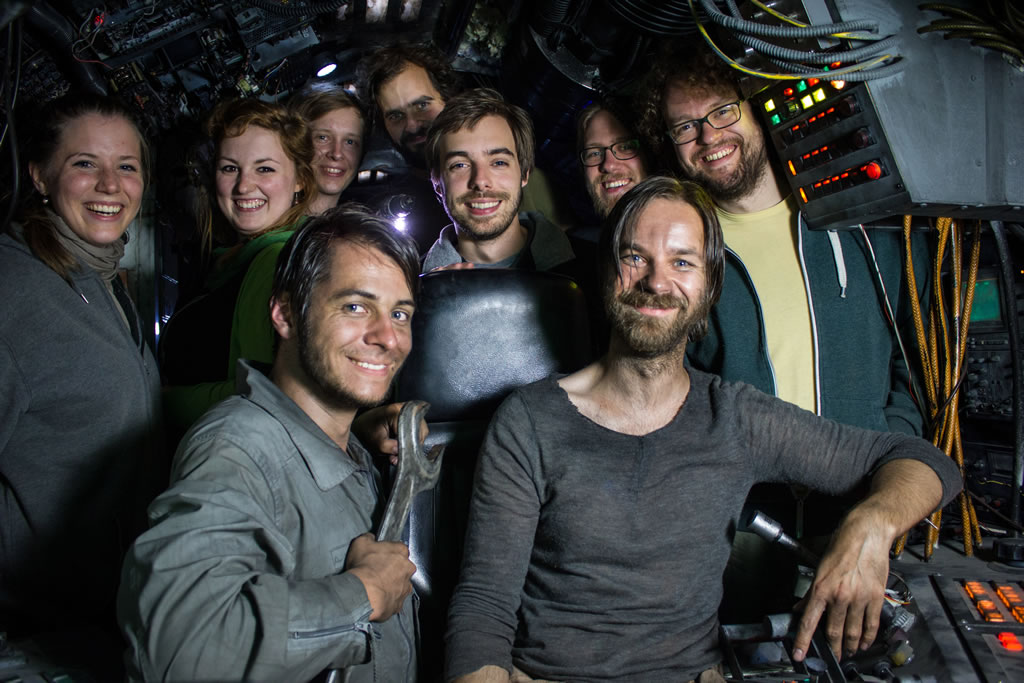 Our project was managed by a very small crew and everyone was involved in several fields of work. Johannes Bade, Marcel Barion, Philipp Bojahr and Massimo Müller were responsible for the design and creation of everything that's visible in the film. Massimo was the leading designer of the spaceship set, Philipp and Johannes brought it to life with a lot of electronics. Most of the film-making tasks in the narrower sense, such as shooting, editing and compositing, were carried out by director Marcel himself.
In the course of the project, film composer Oliver Kranz came on board to play a decisive role in sound editing, music composing and mixing. In addition, there was always a lot of support from "special forces" and a number of courageous helpers.
The actors (and their own make-up artists) were Milan Pešl and Torben Föllmer. Both have worked mainly on stage, Milan at various theatres in Hamburg, at the Badische Landesbühne and the Stadttheater Gießen, Torben in Würzburg and Aachen, as well as various radio plays, commercials and short film productions.
For everyone involved, "Das letzte Land" was the first project of its kind.
© 2013 - 2019 | Impressum | Datenschutz