20.02.2019
"best sci-fi / horror feature"
The tiny but friendly "Berlin Independent Film Festival" is over and has now awarded our film in the category "Best Sci-Fi / Horror Feature" - of course with an emphasis on Sci-Fi! Who would have thought that - we are very happy!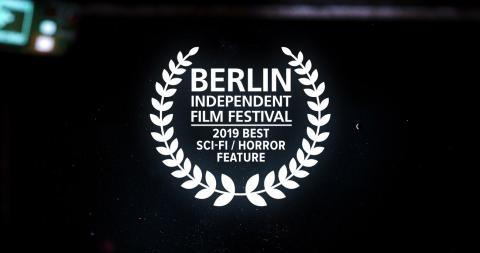 11.02.2019
our film at BIFF 2019
This was the ticket you got until yesterday evening at the lovely Berlin cinema Babylon when you wanted to watch our film. Of course we were also there ourselves and we were especially happy that most of the viewers were still sitting for the Q&A session after the film despite the advanced hour. Meanwhile we've returned to Siegen.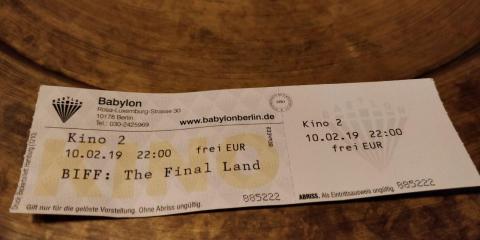 09.02.2019
Let's go...
Now we're going to the capital. Because tomorrow evening at 10 pm our film will be shown at this year's "Berlin Independen Film Festival" (BIFF). Are very curious...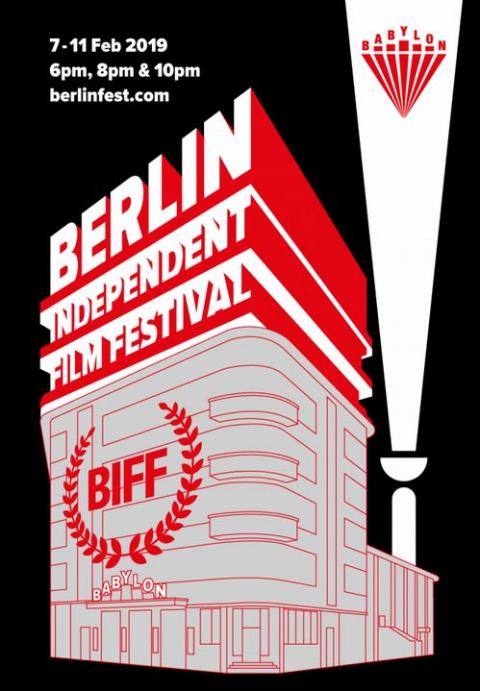 19.01.2019
FFMOP - Award ceremony and film party
At the Max Ophüls-film party - everyone in a good mood and somehow relieved. It feels so good to have simply been a part of the festival and to have contributed to the diversity of the films. "The Final Land" was one of the 16 competition films of FFMOP 2019, was nominated for several awards, and thus received much more attention than one could have imagined when we started the project seven years ago.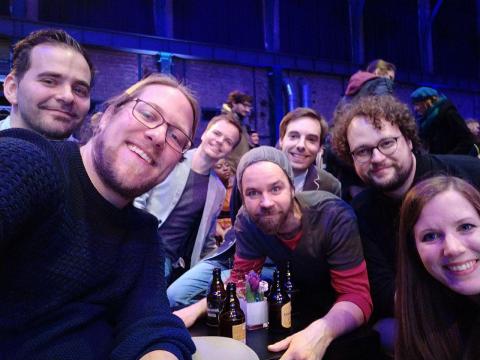 16.01.2019
first interviews, question rounds and a review
Yesterday evening we saw our film for the first time on big screen, together with almost 300 cinema-goers. There was applause and the reactions at the Q&A session (and also afterwards at the corridors of the CineStar in Saarbrücken) were positive throughout. To our surprise people from Cologne, Karlsruhe and even Hamburg came to join us...!

Later we had a nice 30-minute talk with Sonja Marx from Saarländischer Rundfunk - and soon found the first film review on SR.de.

One sentence from it made us especially happy: "There is no humor like in the thematically related student Ulk "Dark Star" (USA 1974, director: John Carpenter), but a lot of claustrophobic despair, which in its best moments almost comes close to "Das Boot" (D 1981, director: Wolfgang Petersen)." ;)
15.01.2019
on the day of the world premiere at FFMOP
We just picked up free tickets for our own film, because today at 9 pm "The Final Land" will be premiered at the 40th Filmfestival Max Ophüls Preis, venue: The CineStar in Saarbrücken, hall 1, with more than 300 seats. Before there will be a photo session and immediately afterwards a Q&A session, moderated by Urs Spörri. Late in the evening there will be a 30-minute talk with Sonja Marx from Saarländischer Rundfunk - and tomorrow morning we will continue with the second screening and the second round of questions. This week will be exciting.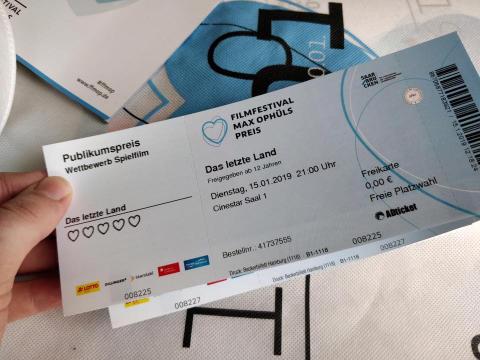 29.12.2018
filmposter
Our first film poster is ready and will be available on paper in time for the world premiere in January...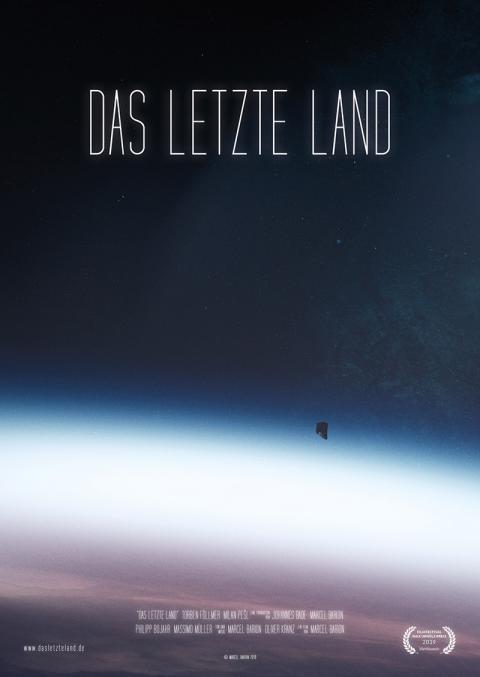 30.11.2018
FILM FINISHED / PREMIERE IN JANUARY 2019
This is an important day, because we are announcing the completion of the film this morning. After years of work, our two-hour film about two outlaws in a small spaceship is finally finished.

And the other good news: The film will be premiered in a very special setting at the 40th Max Ophüls Preis Film Festival, which will take place in Saarbrücken from 14 to 20 January. It will be shown several times during the festival week and will also take part in the competition for the best feature film.

In addition, a two-and-a-half minute trailer has gone online today to mark the occasion: Just click on "Trailer" above and you will get to the corresponding Youtube page...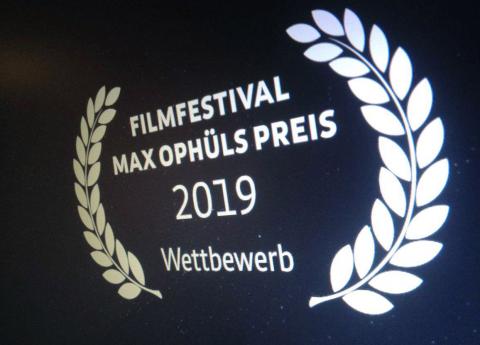 15.08.2018
score und mixing
It's getting more and more exciting... The work on the music is coming to an end and more and more we start to mix. That means, more and more often we include the already finished sound level and let all the sounds come together with the music. Once again it becomes clear how important and essential sound is in film. And also for another reason it becomes more and more exciting. Day after day we are getting closer to the big goal, because these are the last big steps before completion...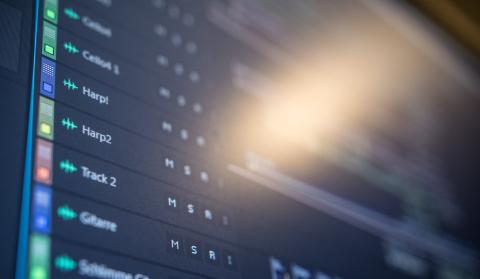 24.05.2018
music music music
Music! Scene by scene our film has been provided with music in the last months, from the beginning to the end. Although the work is not yet finished - there is still a need for refining and some parts will be changed completely - but the intermediate result has already made us very satisfied. To tell you something: The leading instrument became the cello after some back and forth, and a real one! Recorded by our Oliver himself. Nevertheless, you won't always recognize it as a cello, as it has already been quite alienated and of course mixes and combines with completely different sounds. You will see, uh hear.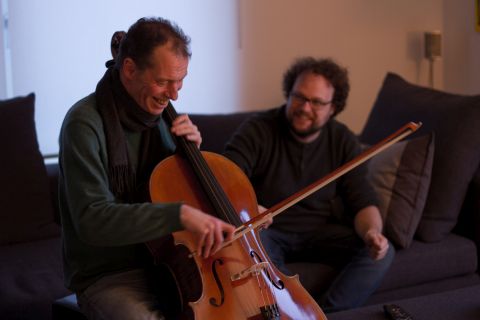 © 2013 - 2020 | Impressum | Datenschutz